The Wireless Encrypted Image Viewer
If you turn on Encryption in your camera settings all images will be delivered encrypted. In order to decrypt and view these images you will need to use the Wireless Image Decryptor/Viewer utility.
To download the Windows Setup please click: Download
After you download the setup, launch it and complete the setup wizard. This will install the Wireless Decryptor/Viewer onto your computer.
The next time you open an Encrypted Photo it will automatically be decrypted into its orginal filename (PICT####.jpg) in the same folder where the encrypted photo resides on your computer and it will be viewed on screen. Use the mouse wheel or slider to zoom and mouse to pan while viewing.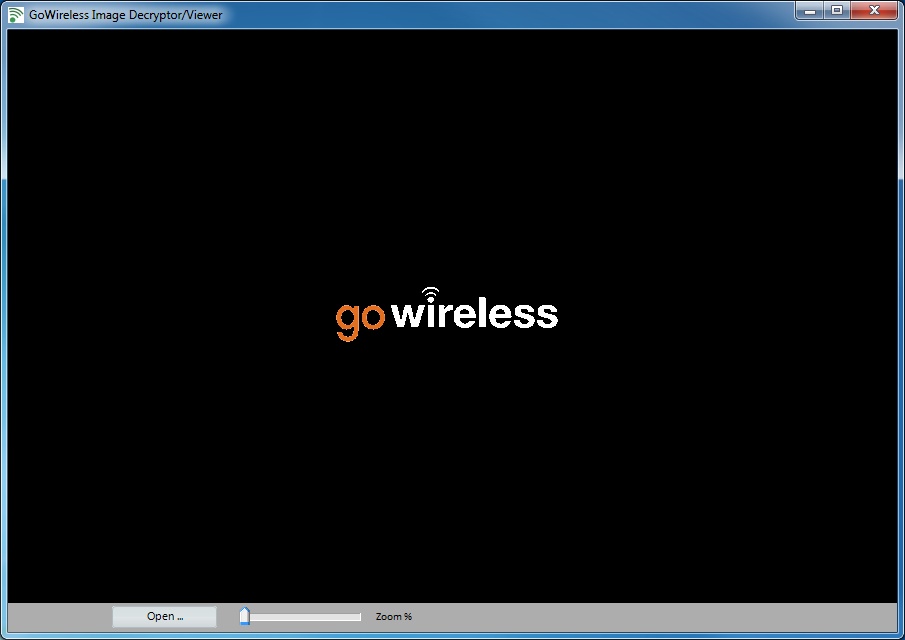 ---
The Firmware Files by Model
The following list represents the latest firmware files for your camera by model. When new firmwares become available this list will be updated. Click the Download button next to your model to download the binary firmware file to your computer.
For detail instructions, please see article: How to update firmware.
Note: The firmware Description/Version will indicate if the firmware is in PRODUCTION or BETA. It is recommended that you download and install only Production firmwares. Install Beta firmwares at your own risk or unless instructed to by our staff.
| Model | Description | Firmware Description | Firmware Version | |
| --- | --- | --- | --- | --- |
| GC-A4Gb | GoCam 4G (AT&T) Blackout | Improvements to firmware update reliability. | 02/07/2023 | Download |
| GC-A4Gb-DB | GoCam 4G (AT&T) | Improvements to firmware update reliability. | 02/07/2023 | Download |
| GC-A4Gb2 | GoCam 4G (AT&T) Blackout | Can send photos with SD cards higher then 32GB (HD and Video not supported) and Fix random clock change | 09/15/2023 | Download |
| GC-A4Gb2-14-DB | GoCam 4G (AT&T) | Can send photos with SD cards higher then 32GB (HD and Video not supported) and Fix random clock change | 09/15/2023 | Download |
| GC-A4Gb2-DB | GoCam 4G (AT&T) | Can send photos with SD cards higher then 32GB (HD and Video not supported) and Fix random clock change | 09/15/2023 | Download |
| GC-A4Gc2 | GoCam 4G (AT&T) Full-Color LED | Can send photos with SD cards higher then 32GB (HD and Video not supported) and Fix random clock change | 09/15/2023 | Download |
| GC-A4Gi | GoCam 4G (AT&T) IR | Improvements to firmware update reliability. | 02/07/2023 | Download |
| GC-E4Gb | GoCam 4G | Improvements to firmware update reliability. | 02/07/2023 | Download |
| GC-E4Gb2 | GoCam 4G | Can send photos with SD cards higher then 32GB (HD and Video not supported) and Fix random clock change | 09/15/2023 | Download |
| GC-EUxb | GoCam (EU) Blackout | Improvements to firmware update reliability. | 02/07/2023 | Download |
| GC-FR4b2 | GoCam 4G | French Language Support | 05/26/2022 | Download |
| GC-G4Gb | Ghost (Verizon 4G) Blackout | Improvements to firmware update reliability | 12/12/2022 | Download |
| GC-G4Gb-MO | Ghost (Verizon 4G) Blackout | Improvements to firmware update reliability | 01/11/2023 | Download |
| GC-LR4b | GoCam (LTE) Blackout (Quectel) | Improvements to firmware update reliability. | 02/07/2023 | Download |
| GC-LR4b2 | GoCam (LTE) Blackout | Can send photos with SD cards higher then 32GB (HD and Video not supported) and Fix random clock change | 09/15/2023 | Download |
| GC-LRAb | GoCam (LTE) Blackout (Sequans) | Optimize signal strength indicator. Resolved LTE "Searching" issue. | 09/07/2018 | Download |
| GC-M4Gb2 | GoCam 4G Blackout | Can send photos with SD cards higher then 32GB (HD and Video not supported) and Fix random clock change | 09/15/2023 | Download |
| GC-NT4b | GoCam 4G | Improvements to firmware update reliability. | 02/07/2023 | Download |
| GC-NT4b2 | GoCam 4G | Can send photos with SD cards higher then 32GB (HD and Video not supported) and Fix random clock change | 09/15/2023 | Download |
| GC-SP4b | GoCam 4G | Can send photos with SD cards higher then 32GB (HD and Video not supported) and Fix random clock change | 09/15/2023 | Download |
| GC-T4Gb | GoCam 4G (T-Mobile) Blackout | Improvements to firmware update reliability. | 02/07/2023 | Download |
| GC-T4Gb2 | GoCam 4G Blackout | Can send photos with SD cards higher then 32GB (HD and Video not supported) and Fix random clock change | 09/15/2023 | Download |
| GC-U4Gb | GoCam (USCC 4G) Blackout | Improvements to firmware update reliability. | 02/07/2023 | Download |
| GC-U4Gb2 | GoCam (USCC 4G) Blackout | Can send photos with SD cards higher then 32GB (HD and Video not supported) and Fix random clock change | 09/15/2023 | Download |
| GC-V4Gb | GoCam (Verizon 4G) Blackout | Update Network Settings | 09/07/2018 | Download |
| GC-VR4b2 | GoCam (Virtual 4G) Blackout | Can send photos with SD cards higher then 32GB (HD and Video not supported) and Fix random clock change | 09/15/2023 | Download |
| GC-W4Gb | Ghost (Verizon 4G) Blackout | Improvements to firmware update reliability | 01/11/2023 | Download |
| GC-Z4Gb | GoCam (Verizon 4G) Blackout | Improvements to firmware update reliability. | 02/07/2023 | Download |
| GC-Z4Gb2 | GoCam (Verizon 4G) Blackout | Can send photos with SD cards higher then 32GB (HD and Video not supported) and Fix random clock change | 09/15/2023 | Download |
| GC-Z4Gb2-DB | GoCam (Verizon 4G) Blackout | Can send photos with SD cards higher then 32GB (HD and Video not supported) and Fix random clock change | 09/15/2023 | Download |
| GC-Z4Gc2 | GoCam (Verizon 4G) Full-Color LED | Can send photos with SD cards higher then 32GB (HD and Video not supported) and Fix random clock change | 09/15/2023 | Download |
| GC-Z4Gi | GoCam (Verizon 4G) IR | Improvements to firmware update reliability. | 02/07/2023 | Download |
| GC-ZA4b2 | GoCam 4G | Can send photos with SD cards higher then 32GB (HD and Video not supported) and Fix random clock change | 09/15/2023 | Download |
| GC-ZA4c2 | GoCam 4G Full-Color LED | Can send photos with SD cards higher then 32GB (HD and Video not supported) and Fix random clock change | 09/15/2023 | Download |
| GL-A6Eb | GoLive (AT&T 4G LTE) Blackout | Will display the SQ on status report, Photo + Video mode optimization & crash fix, Nametag bug fix, (SF Ver 1.9.6) | 05/18/2023 | Download |
| GL-A6Eb-DB | GoLive (AT&T 4G/LTE) Blackout | Will display the SQ on status report, Photo + Video mode optimization & crash fix, Nametag bug fix, SD card encryption (SF Version 1.9.6) | 05/18/2023 | Download |
| GL-A6Eb-MO | GoLive (AT&T 4G LTE) Blackout | Will display the SQ on status report, Photo + Video mode optimization & crash fix, Nametag bug fix, (SF Ver 1.9.6) | 05/18/2023 | Download |
| GL-ALTEb | GoLive (AT&T 4G LTE) Blackout | Display the 'Signal Quality' on status report, Adjust SQ values for accuracy, Photo + Video mode optimization & crash fix, Nametag bug fix (SF Ver 1.17.2) | 05/18/2023 | Download |
| GL-ALTEb-DB | GoLive (AT&T 4G/LTE) Blackout | Display the 'Signal Quality' on status report, Adjust SQ values for accuracy, Photo + Video mode optimization & crash fix, Nametag bug fix, Local encryption function (SF Ver 1.17.2) | 05/18/2023 | Download |
| GL-ALTEb-MO | GoLive (AT&T 4G LTE) Blackout | Display the 'Signal Quality' on status report, Adjust SQ values for accuracy, Photo + Video mode optimization & crash fix, Nametag bug fix (SF Ver 1.17.2) | 05/18/2023 | Download |
| GL-CLTEb | GoLive (Cellcom 4G LTE) Blackout | Will display the SQ on status report, Photo + Video mode optimization & crash fix, Nametag bug fix, (SF Ver 1.9.6) | 05/18/2023 | Download |
| GL-ELTEb | GoLive (4G LTE) Blackout | Display the 'Signal Quality' on status report, Adjust SQ values for accuracy, Photo + Video mode optimization & crash fix, Nametag bug fix, Added B41 configuration option (SF Ver 1.17.2) | 05/18/2023 | Download |
| GL-M6Eb | GoLive (4G LTE) Blackout | Will display the SQ on status report, Photo + Video mode optimization & crash fix, Nametag bug fix, (SF Ver 1.9.6) | 05/18/2023 | Download |
| GL-MLTEb | GoLive (4G LTE) Blackout | Display the 'Signal Quality' on status report, Adjust SQ values for accuracy, Photo + Video mode optimization & crash fix, Nametag bug fix (SF Ver 1.17.2) | 05/18/2023 | Download |
| GL-SP4b | GoLive (4G LTE) Blackout | Test 1.18.0 | 08/13/2023 | Download |
| GL-ULTEb | GoLive (USCC 4G LTE) Blackout | Display the 'Signal Quality' on status report, Adjust SQ values for accuracy, Photo + Video mode optimization & crash fix, Nametag bug fix (SF Ver 1.17.2) | 05/18/2023 | Download |
| GL-V6Eb | GoLive (Verizon 4G LTE) Blackout | Addressed regional sending issues, Will display the SQ on status report, Photo + Video mode optimization & crash fix, Nametag bug fix, (SF Ver 1.9.6) | 05/18/2023 | Download |
| GL-V6Eb-MO | GoLive (Verizon 4G LTE) Blackout | Addressed regional sending issues, Will display the SQ on status report, Photo + Video mode optimization & crash fix, Nametag bug fix, (SF Ver 1.9.6) | 05/18/2023 | Download |
| GL-VLTEb | GoLive (Verizon 4G LTE) Blackout | Addressed regional sending issues, Display the 'Signal Quality' on status report, Adjust SQ values for accuracy, Photo + Video mode optimization & crash fix, Nametag bug fix (SF Ver 1.17.2) | 05/18/2023 | Download |
| GL-VLTEb-DB | Ghost (Verizon 4G LTE) Blackout | Addressed regional sending issues, Display the 'Signal Quality' on status report, Adjust SQ values for accuracy, Photo + Video mode optimization & crash fix, Nametag bug fix, Local Encryption Function (SF Ver 1.17.2) | 05/18/2023 | Download |
| GL-VLTEb-MO | GoLive (Verizon 4G LTE) Blackout | Addressed regional sending issues, Display the 'Signal Quality' on status report, Adjust SQ values for accuracy, Photo + Video mode optimization & crash fix, Nametag bug fix (SF Ver 1.17.2) | 05/18/2023 | Download |
| GL-VRLTEb | GoLive (Virtual 4G LTE) Blackout | Display the 'Signal Quality' on status report, Adjust SQ values for accuracy, Photo + Video mode optimization & crash fix, Nametag bug fix (SF Ver 1.17.2) | 05/18/2023 | Download |
| GST-ALTEb | Ghost (AT&T 4G/LTE) Blackout | Improvements to firmware update reliability | 01/11/2023 | Download |
| GST-ALTEb-DB | Ghost (AT&T 4G/LTE) Blackout | Improvements to firmware update reliability | 12/16/2022 | Download |
| GST-ALTEb-MO | Ghost (AT&T 4G/LTE) Blackout | Improvements to firmware update reliability | 01/11/2023 | Download |
| GST-CLTEb | Ghost (Cellcom 4G/LTE) Blackout | Improvements to firmware update reliability. | 12/30/2022 | Download |
| GST-MLTEb | Ghost (4G/LTE) Blackout | Improvements to firmware update reliability | 01/11/2023 | Download |
| GST-SP4b | Ghost (4G LTE) Blackout | OTA Update Test | 12/13/2022 | Download |
| GST-ULTEb | Ghost (USCC 4G/LTE) Blackout | Improvements to firmware update reliability | 01/11/2023 | Download |
| GST-VLTEb-DB | Ghost (Verizon 4G LTE) Blackout | Improvements to firmware update reliability | 01/11/2023 | Download |
| SR3-CX | NW CX | Nametag feature added. | 01/08/2021 | Download |